VOTE Lake Bluff is an open, non-partisan, volunteer committee of Lake Bluff/unincorporated Lake Bluff residents organized to recruit and identify candidates for positions of trust and responsibility on local boards, including the Village Board of Trustees, Village President, Village Clerk, Library Board of Trustees, Park Board and both the District 65 and District 115 School Boards. All registered voters within the relevant districts will be invited to participate in town-meeting style interviews to be held in the late fall. VOTE Lake Bluff will support the candidates selected by the attendees through a vote-by-ballot process.
The group's administrative committee will seek input from each of the 5 boards via a survey to determine issues of concern, and then develop candidate interview questions based on the survey results. Please refer to the "ISSUES" tab to review the survey results.
OFFICES ELECTED ON APRIL 4, 2017
VILLAGE BOARD:
(three 4-year term seats)
VILLAGE BOARD PRESIDENT:
(one 4-year term seat)
VILLAGE CLERK:
(one 2-year term seat)
LIBRARY BOARD:
(four 4-year term seats)
PARK DISTRICT BOARD:
(four 4-year term seats, one 2-year term seat)
SCHOOL DISTRICT #65:
(four 4-year term seats)
SCHOOL DISTRICT #115:
(one 4-year term seat)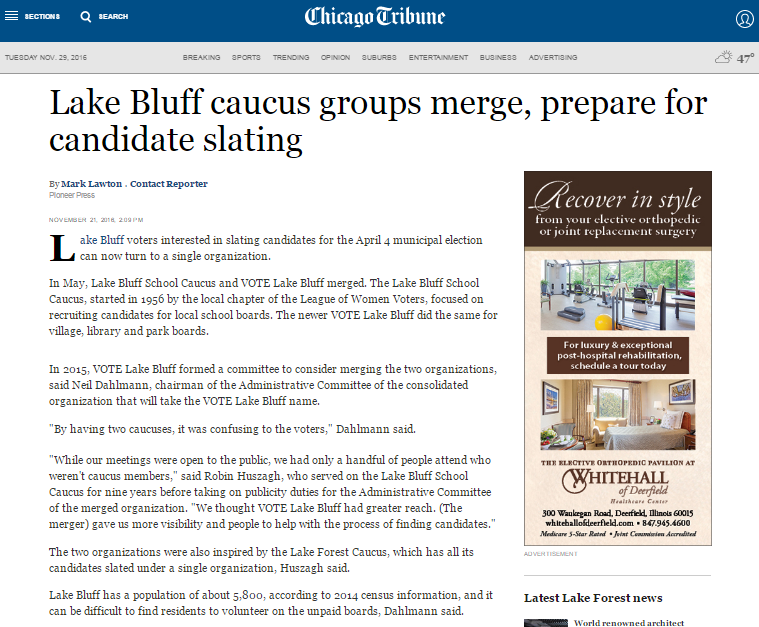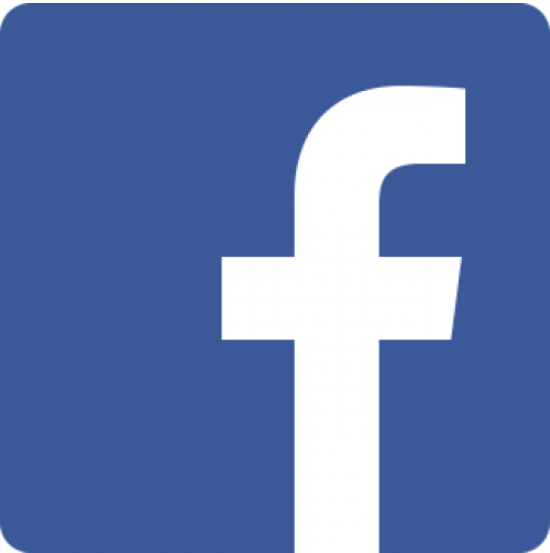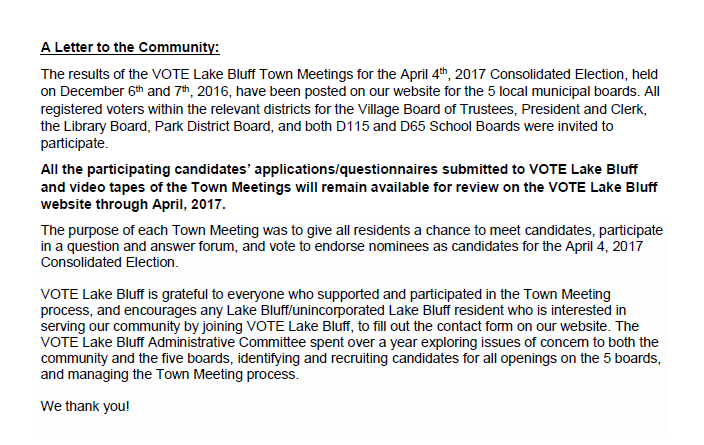 Note: Traditionally the Lake Bluff School Caucus and the Lake Forest Caucus have worked together to fill vacancies on the D115 School Board through an informal agreement that 2 out of 7 total D115 School Board positions would be filled by Lake Bluff residents.

Sally Davis, a Lake Bluff resident, has been nominated for re-election to the Board of High School District 115 by the Lake Forest Caucus. In September of 2015, The Lake Forest High School District 115 Board of Education announced the appointment of Sally Davis to fill the board vacancy that resulted from Dave Schreiber's resignation, a Lake Forest Caucus designated vacancy. A statement from Sally Davis seeking support by Lake Bluff registered voters on April 4, 2017, for the Consolidated Election is available on our website here: http://www.votelakebluff.org/school_district_115_candidate_applications.html.